Friday 28th July 7-10pm: DAME DAPHNE MEETS LADY DAPHNE – Daphne Du Maurier event.
As part of her centenary year celebrations, historic wooden sailing vessel, Lady Daphne, hosted an evening dedicated to her namesake and renowned Cornish author, Daphne du Maurier.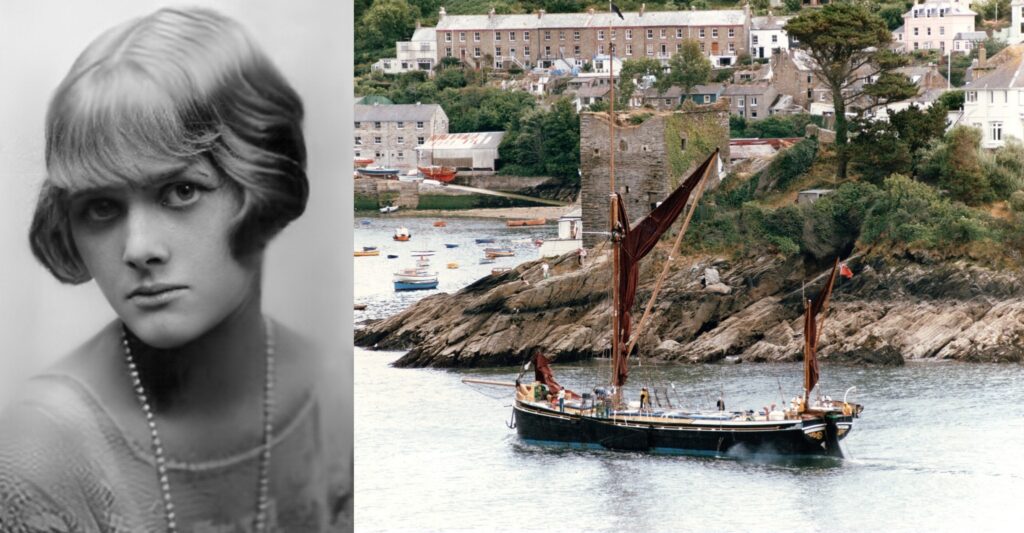 Lady Daphne
Early in her sailing story, Lady Daphne was involved in the 19th century China Clay Industry around Charlestown and Fowey, alongside her sister barges, Lady Jean and Lady Roseberry.
She shipwrecked in 1928, whilst carrying a cargo of China Clay, after her Skipper was lost overboard, and the crew rescued by Lizard Lifeguard. But survived with barely a scratch after beaching herself on the Isles of Scilly.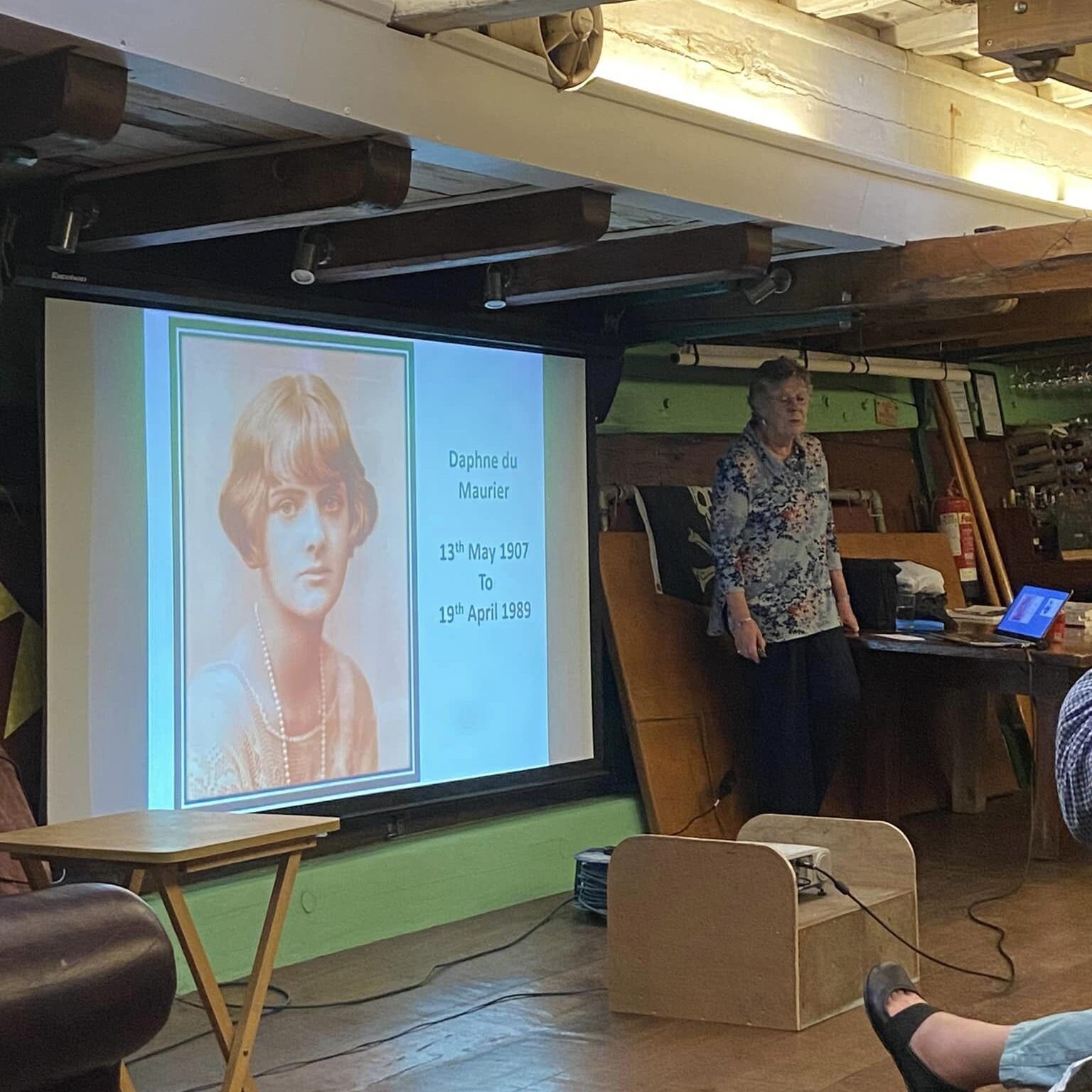 Dame Daphne
du Maurier expert Lynn Goold gave a fascinating talk about one of the most famous Cornish authors, Daphne du Maurier, and read some of her works.
Cornish Music
Kerensa played traditional Cornish music during the evening with her hammered dulcimer.
Saturday 29th July. Open Boat 10am-5 pm
The public were invited to come onboard and meet authors throughout the day.
Artist and author Debbie Gower read Tina Barrott's popular story The Charlestown Robin. Debbie enthralled the children (and adults!) with her own stories Fox and the Box and Marvellous Mouse on the Moon.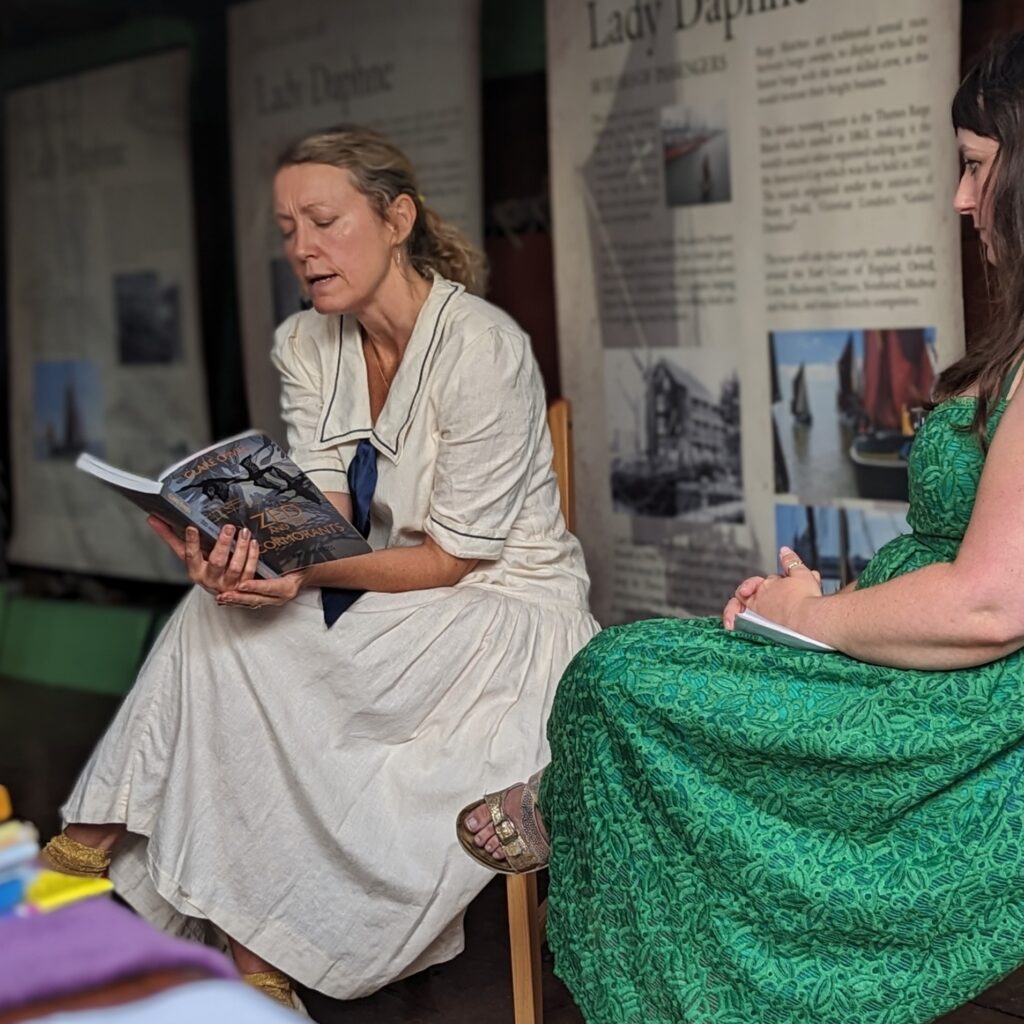 Emily Charlotte interviewed Clare Owen about her book Zed and the Cormorants, which won the Holyer An Gof award in the YA category and the Ann Trevenen Jenkin cup in 2022.
Books, books and more books!
Sunday 30th
Exciting Author Talks from authors publishing with Hermitage Press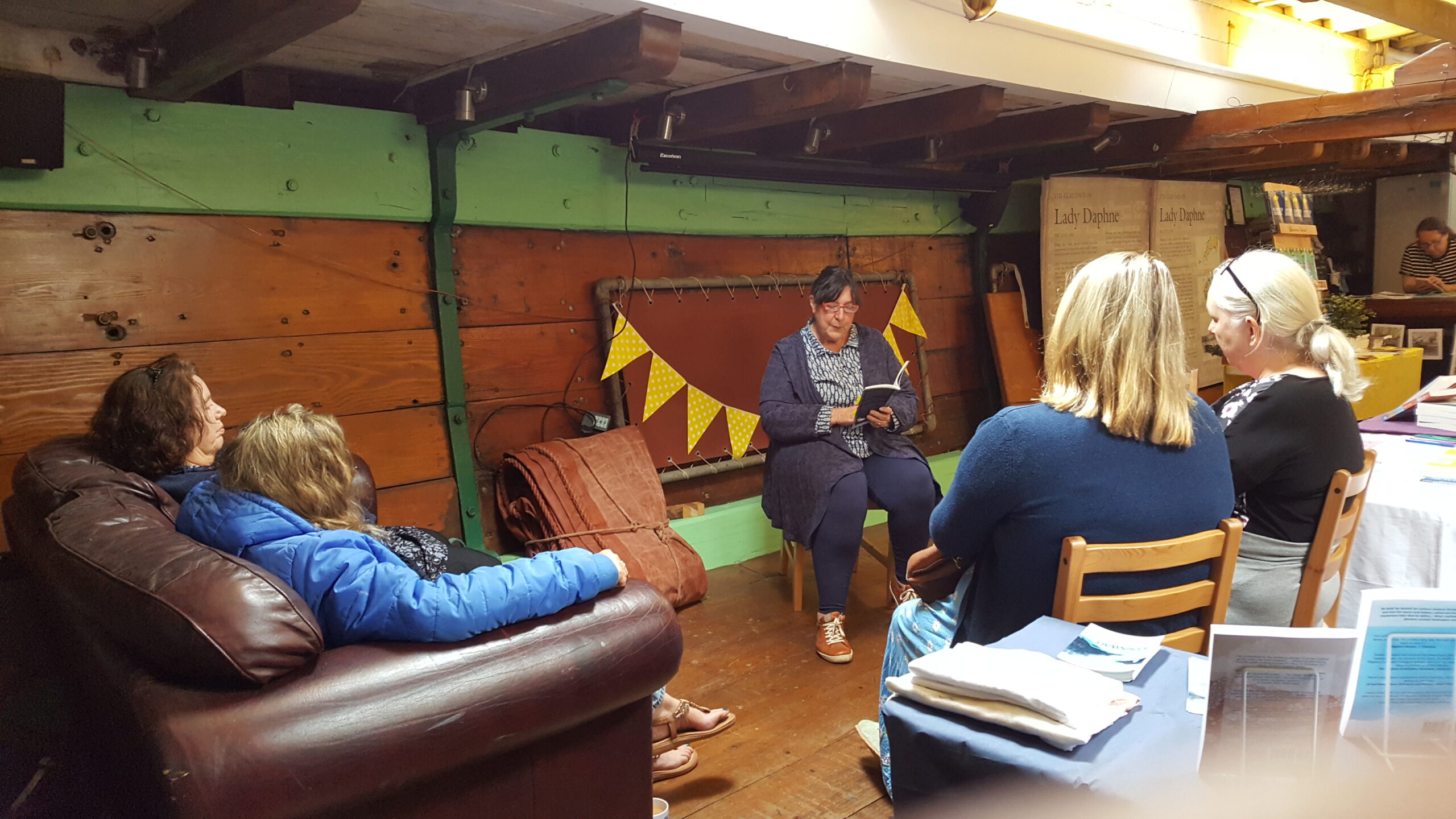 Clare Dwyer shared some moving poems from her book Murmurations
Kath Morgan of the The Writing Retreat talked about the beautifully illustrated new book from Hermitage Press Fulmar by Robin Falvey and her own speculative fiction The Bycatch Principle to be released later this year

Gareth Rees and Paul Taylor-McCartney chat about a book commissioned by the AONB: a collection of 12 stories for the 12 Cornish Sections of the AONB, showcasing the cultural heritage of the protected landscape. Creating a sense of place to inspire, connect and engage with audiences from Cornwall, and beyond.
Tim Hannigan and Matt Johnson in conversation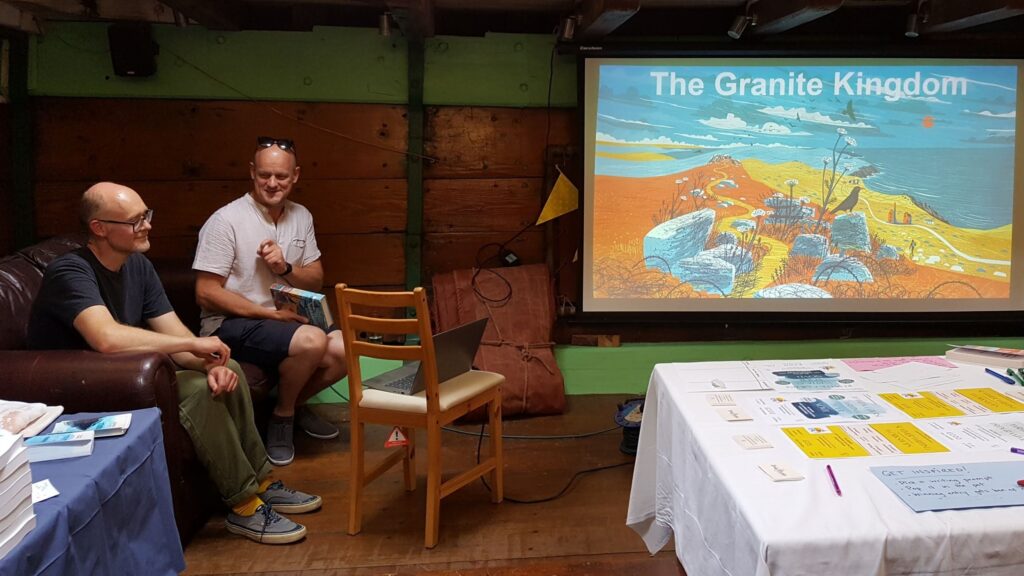 Travel writer and historian, Tim Hannigan, and illustrator Matt Johnson shared about the process of creating the gorgeous book cover for The Granite Kingdom – A Cornish Journey and asked the question: 'Where does Cornwall begin?'

Philip Marsden describes the book as: 'A magnificent work of travel and historical deconstruction – deeply personal, meticulously researched and hugely enjoyable. Hannigan reaches for Cornwall and shakes it, letting all the fantastic images settle – the gothic novels, the Celtic theories and tourist fantasies – to leave behind something solid and just as strange, just as distinctive, just as extraordinary.'
Matt was Senior Creative Designer for Seasalt for over 18 years and published the illustrated book Red Sails & Pilchards, about Cornwall's fishing heritage, in 2022.