Cornwall Writers is a community of writers living in or inspired by Cornwall. Explore their books and find out more about the people who wrote them.
This hefty anthology contains 28 short stories by 26 authors and 14 black and white illustrations carefully placed throughout its 358 pages.
Publication date 10th June 2022.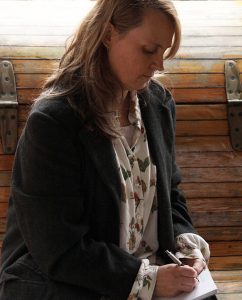 T J Dockree founded Cornwall Writers to support local authors and leads the Cornwall region of writers for National Novel Writing Month.
The Clock in My Mother's House by Annalisa Crawford is a haunting collection of characters who will charm, captivate, and intrigue you.
This dark coming-of-age for adults will resonate with anyone who is still waiting to feel grown-up.
Three women. Three stories. One pub where it all begins.
A collection of my favourite stories – not necessarily my 'best' or most successful stories, which are probably equally arbitrary categorisations in any case.
Author Talks
Cornish authors and performers explore the spirit of Cornwall through literature, storytelling and spoken word – Friday 15 March, 6-9pm
Events
Spirit of Cornwall 10 Oct 2023-20 Jan 2024 at Royal Cornwall Museum showcases the work of artists, creatives and authors living in Cornwall.
Cornish Book Festivals
Cornwall Writers at Saltash Library Literary Festival on Monday 2nd October at 2pm: the writers we work with and our short story project.
Cornish Book Festivals
Saltash Library Literary Festival celebrates Libraries Week 2-7 October 2023 with author talks and a visit from Cornwall Writers.